This thread has been posted from a requirement of our good friend, Constantino
on the topic of
Dyckia hebdingii
L.B. Smith :
Constantino mentioned that :
I must say something about this jewel. This plants was collected 600 km South from where I live.
Porto Alegre (Joyfull Harbour) is a big Brazilian Metropolis. This plants grows in a tiny area close to this town.
It grows in a granitic slope facing North. The city is the capital of the Southern most state of Brazil,
just after Santa Catarina where I live.
This plant stands cold, temperatures up to 8 degreees below zero (centigrades!).
Of course we never have such a temperature for more than a very few hours,
You could not keep it in this temperature for more than 12 hours!
This plant was collected 60 days ago. It shows damages.
In nature, the plants struggle to survive so they show some scars.
Cultivating plants are perfect cause they grow or shoul grow in very controlled surroundings.
- This is a small plant. It is a emerald green /silvery blue dyckia. In no other specie we find this colour.
- The leaves are very succulent, swollen and in this respect resemmbles that of the Aloe brevifolia (there is one close by)
- This plant is a ancient one, it bears a reptant trunk. Reptant trunks are commom with very old individuals.
It is a trunk close to the ground, on or under the soil. Reptant means reptile like.
- This plant is begenning to divide, as you cam observe from the upper view.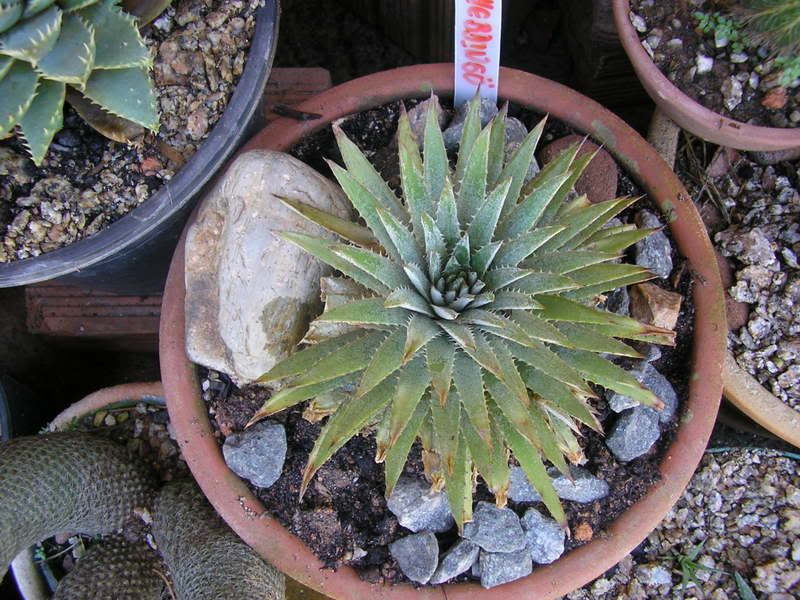 - It bears the leftovers of several flower stalks in betwween the lower leaves.
- There is not even a hint of past side sprouting. It reproduces by seeds.
- It is a very rare species and controlled. This was a gift from a scientist that studies these plants in the wilderness.
In nture there is no more than a few, a very few individuals.
- Here in Joinville, we are studyng the possibility for tissue culturing from cell located at the leaves axilas,
or from cells of the flower stalk.
- To me there is no other plant that is more beautiful than this one.
I love the special individuals of the concentric form of the Agave victoriae reginae,
but this is much more stricking.
From the xeric plants, including all succulents and cacti, there is no othe close to thi beauty.
Ah, this plant is a
Dyckia hebdingii
.
There are two or three photos in the internet but those are not
D. hebdingii
in any way or this one came from heavens.
Thank you
Constantino.