I have kept this remarkable xerophytic brom for year, until it's bloomed since yesterday.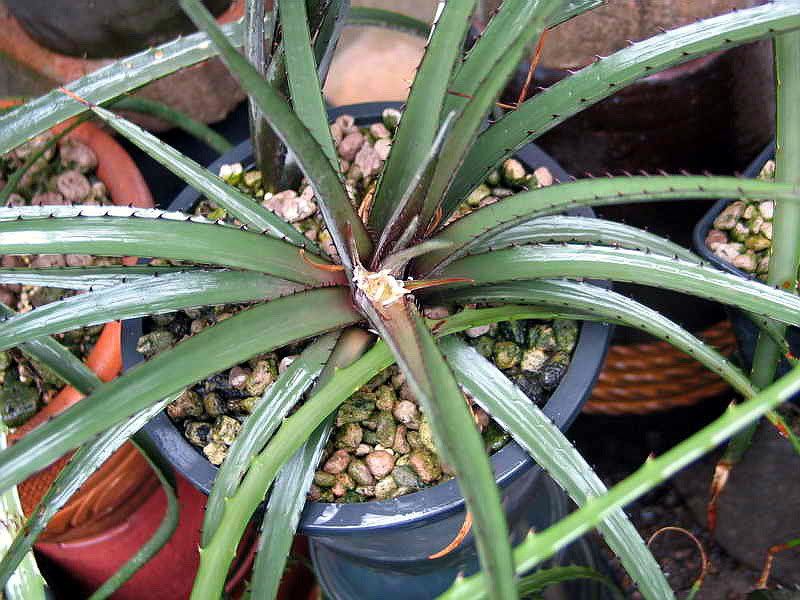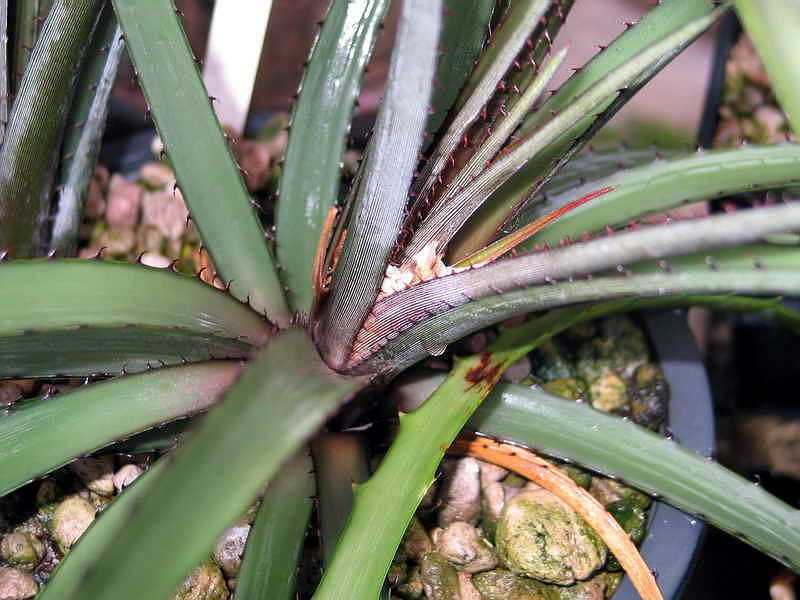 For one who would like to know its unusual story, I came across with this in the newsletter of Bromeliad Society of San Francisco, May 2005 :wrote..
"...A Most Unusual Bromeliad
Deinacanthon urbanianum is a vicious spiny
terrestrial bromeliad that only a lover of those
sticky plants could love. The genus name means
"terrible spine". The upper half of the leaf spines
grow in one direction while the lower half of the
leaf spines grow in the opposite direction. This is a
monotypic genus (i.e., only one plant in the genus)
and over the years it has changed from
Rhodostachys (no longer a valid bromeliad genus)
to Deinacanthon to Bromelia and finally back to
Deinacanthon.
The plant is native to northern Argentina and
Paraguay and spreads via rhizomes. When your
editor was in Argentina in 2003, he saw this plant
in Salta province growing under a huge
Trichocereus terschekii cactus. It seemed to be
growing by spreading on top of the ground, but
some roots of the main plant were in a clay-like
soil.
My plant's rhizomes have a fantastic ability to
find the holes in the bottom of the pot and start
growing outside the pot. These plants will also
produce more pups from the rhizomes and remain
healthy even though they are not in soil.
This spring my plant flowered for the first time.
The leaves flattened out to make room for about
five creamy-white flowers that were very foul
smelling – similar to the stapeliads from Africa
whose flowers smell like spoiled meat to attract
flies for pollination. There was also thick nectar
surrounding the flowers. I am not aware of any
other bromeliad that produces such foul smelling
flowers.
The September/October 1954 Bromeliad Society
Bulletin states that wild hogs and foxes eat the
fruits that develop from the flowers. And the
Mataco Indians of Argentina use the fibers from
the plant to make baskets and nets to carry the
results of their hunting and fishing. These nets or
bags may be decorated with dyes. Unfortunately,
the nets or bags retain the foul smell for quite a
while. These nets are very tough and hold many
kilograms as long as the net is dry; it easily
collapses when wet. ..."