As a requirement from our friend, Constantino.
He would like to present a story of a myterious Dyckia from his country, Brazil. Constantino said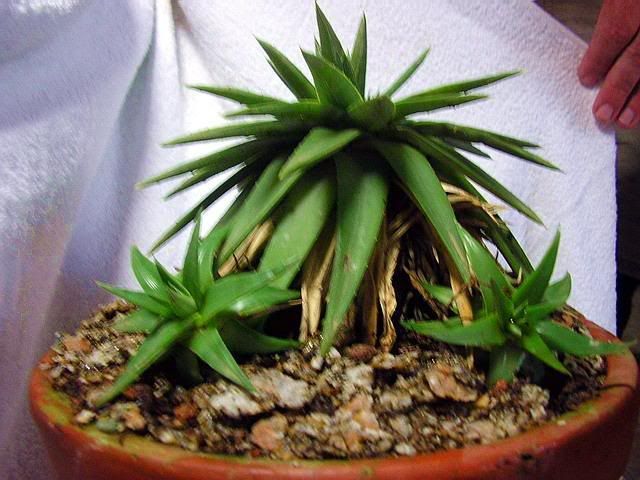 "...in Santa Catarina, my homeland is also the land of the word famous orchid
Laelia purpurata.
Here in Joinville, my town, we have a very classic association of people fond of these plants.
The oldest guy, a 92 years old, gave me a special
Dyckia
that he had kept for more than 50 years.
He said he also got it as a gift from a long passed away collegue who brought the plant
from the west in our highlands some 300km away from here.
This old fellow said the flowers were white and as I said there is not any white flowered
Dyckia
,
he came with a picture of a
Laelia purpurata
bloom and there in the back was a flower stalk,
a dyckia flower stalk bearing large white flowers.
The picture is blured cause the dyckia was not the aim of it but the orchid.
There are some old field relator of a dyckia bearing large white flowers
but we all think it is a myth or a legend.
These field relator are at the Itajaí Herbarium that keeps part of the Dr. Raulino Reitz writings.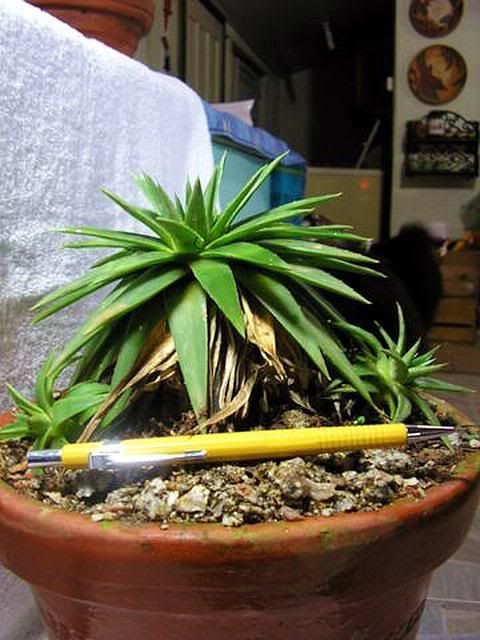 The plant even adult is small, the smallest I have seen up to now. It fits inside your hand.
The leaves are very succulent, deep green, short and form a nice rosette
and the lower leaves are pointed to the ground.
It is not a tall plant. The trunk has the same lenght of the leaves so the appearence is of a ball of leaves.
The old straw like leaves do not stay flat to the ground, they hang close to the trunk.
Mine has three offsets and the youngs are iqual to the old plant.
The spines are very unconspicuous, in fact they are tiny, but firm and our skin ackes with the injuries they produce..."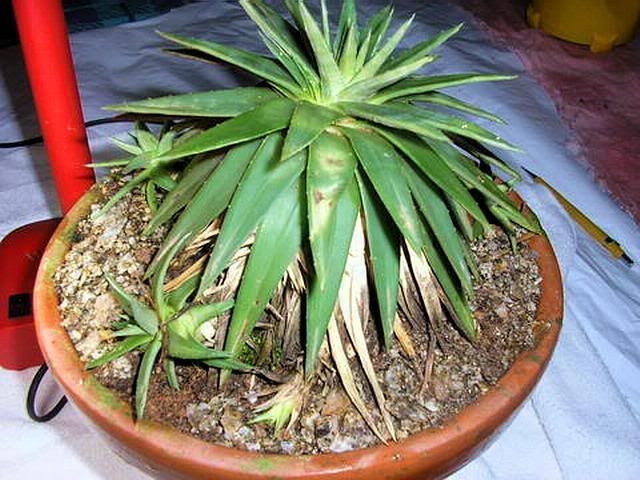 Constantino has mentioned about a name
Dyckia glaucescens
but I could not find any data of it.
Recently I've heard from Harry Luther of Selby Botanical Garden said about the white flowering
Dyckia
it is
Dyckia alba
here:
Bromeliaceae
Dyckia alba
S.Winkl.
Doc. Nat. 3: 33 (1982).
Distribution:
Rio Grande do Sul (Brazil South, Brazil, Southern America)
Type Information
Collector(s):
Winkler 747
Locality:
Trockene Sandsteinfelsen am Pedra da Segreda bei Cacapava
Type Location:
holotype ICN
Any way, this must be proved out when Constantino's plant get flower, I hope nearly soon.